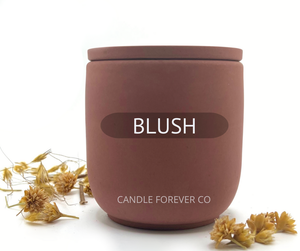 Candle Forever Co - Cashmere Plum | Luxury Lotion Candle | Massage Oil Candle
Regular price $30.00 Sale
This fruit forward scent has a cozy warmth that's always inviting. Bright citrus and a touch of black cherry enhance the dark plum heart of this fragrance.
Notes:
Top: Citrus
Middle: Black Cherry, Plum
Bottom: Vanilla, Freesia, Amber, Light Musk, Sugar
Our lotion candles are handcrafted and blended daily. Our custom recipe blends organic jojoba oil, shea butter, cocoa butter and vitamin-e oils with our skin safe soy wax. No dyes are used, just plant- based goodness. Candles are made to order using all-natural soy wax and phthalate-free, high quality fragrance oils that are pet, baby, and pregnancy safe.
To enjoy: Light for 20-30 mins, just long enough for a small melt pool to form. Carefully extinguish the flame. Scoop or dip your fingers into the wax and apply to skin. Soy wax has a low melt point so the wax won't be too hot.
*Be sure to test a small area of skin before  applying in larger areas.*