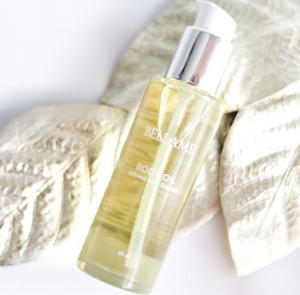 Bellame - Body Oil Infused with Baobab
Regular price $72.00 Sale
The Body Oil is specifically formulated for the needs of your body.  Starting with a base formulation of hero oils packed with nutrients and fatty acids to nourish and protect the skin such as Vitamin E, Baobab Oil, and Grapeseed Oil, we added the benefits of Citrus peel and Geraniol oils to specifically treat the thicker skin of your body.   
This proprietary blend has natural emollient ingredients that help soften the rough areas of the thicker skin found on your body.  This incredibly lightweight blend renews, nourishes, protects, and seals in moisture and hydration all day long.  
Refreshing spa-scent powered by the union of neroli and citrus oils, think orange blossom, your favorite flower, and just a hint of honey!  Truly an indulgence for the senses.