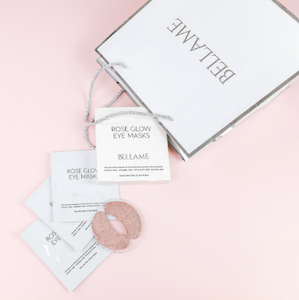 Bellame - Rose Glow Eye Masks
Regular price $32.00 Sale
Clinical Grade Ingredients:
Baobab Oil delivers rich antioxidants and omega fatty acids for superior moisturizing effects
Retinol, Glycine, and Leucine target the appearance of fine lines and wrinkles
Hyaluronic Acid to hydrate, plump and smooth
Mineral-rich ocean water to calm and reduce inflammation (goodbye puffy eyes)
Lemon Extract to brighten and refresh the eye area
All delivered with our proprietary 3-Layer Technology:
The top layer is a foil to keep the moisture in during treatment, providing a sauna effect that opens pores and pushes ingredients into the under-eye skin area.
The middle layer is an elastic fabric so that the masks can adhere properly and allow for movement without falling out of place.
The bottom layer is wood pulp that keeps active ingredients in place while these beauties get to work!