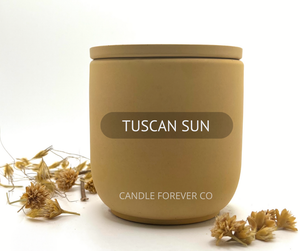 Candle Forever Co - Amber & Oud | Luxury Lotion Candle
Regular price $30.00 Sale
Decadent woods & oriental notes awaken the ambiance with an intoxicating drizzle of golden amber.
Notes:
Top - sweet amber 
Middle - powdery, herbal, guaiacwood 
Bottom - cedarwood, sandalwood, musk
Our Lotion candles are a delightful combination of two soothing elements: warm, comforting candlelight and nourishing, all-natural moisturizing lotion.
Each lotion candle is handcrafted and blended daily.
Our custom recipe blends organic jojoba oil, shea butter, cocoa butter and vitamin-e oils with our skin safe soy wax.
Jar Size : 9 oz | 204g Net Weight | 3.5 x 3.5" Wick: 100% Cotton (Lead and Zinc Free)
Burn time: Up to 60 hours Gluten Free, Phthalate Free
To enjoy: Light for 20-30 mins, just long enough for a small melt pool to form. Once a melt pool has formed, carefully extinguish the flame. Scoop or dip your fingers into the wax and apply to skin. Soy wax has a low melt point so the wax won't be too hot.
*Be sure to test a small area of skin before applying in larger