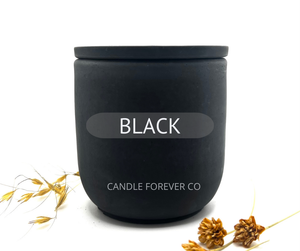 Candle Forever Co - Black Sea| Luxury Lotion Candle | Organic Massage Oil Candle
Regular price $30.00 Sale
Succulent plum, the scent of aromatic clove leaves and the fresh air tonalities of ozone intertwine with the nuances of sweet cardamom seed and the sweet fragrance of this floral bouquet. Creamy vanilla tonalities and golden amber scents blend together to unite, enhance and complete this fragrant accord. Notes:
Top – plum, clove leaf, ozone
Middle – cardamom seed, floral bouquet
Bottom – vanilla, amber
Our lotion candles are handcrafted and blended daily.
Our custom recipe blends organic jojoba oil, shea butter, cocoa butter and vitamin-e oils with our skin safe soy wax.
No dyes are used, just plant- based goodness. 
To enjoy: Light for 20-30 mins, just long enough for a small melt pool to form. Once a melt pool has formed, carefully extinguish the flame. Scoop or dip your fingers into the wax and apply to skin. Soy wax has a low melt point so the wax won't be too hot.