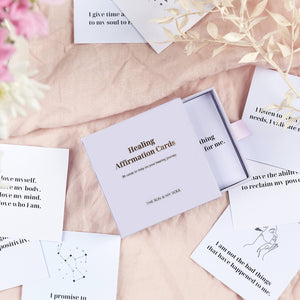 The Sun & My Soul - Healing Affirmation Cards - To Help on Your Healing Journey
Regular price $33.00 Sale
Dealing with physical, mental or emotional trauma? Use Healing Affirmation Cards to develop a positive mindset to support your healing process. Positive affirmations rewire unhelpful thought processes and develop new, beneficial ways of thinking so personal growth and healing can take place.💜
Here are few tips on how you can use the affirmation cards:
•Use it as a positive reminder for everyday to make your day better and to let go of your negative thoughts. •
Use them to put on your desk, mood board, decor for your space. •Put them in a frame for your decor.
•Stick in a place where you can see every day such as mirror or doors, as a positive reminder everyday.
•Would make a great gift for your loved ones.
•Use it for your journal and planners.
•Use it as a meditation and empowering cards.
Features: 30 Cards to help on your healing journey